FlightLine RC P-38L Lightning Allied Green 1600mm (63 inch) Wingspan - PNP RC Airplane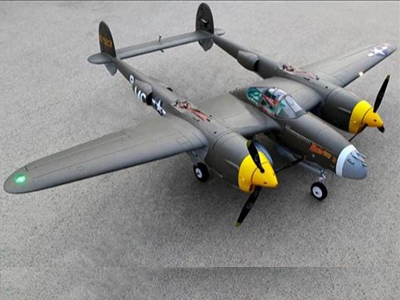 FlightLine RC P-38L Lightning Allied Green 1600mm (63 inch) Wingspan - PNP RC Airplane
Wholesale price: [ $342.00 ]
FlightLine RC P-38L Lightning Allied Green 1600mm (63 inch) Wingspan - PNP RC Airplane
1, the 3748-600Kv Brushless Outrunner Motor was insatlled
2, it requires 6 channel Radio
3,it requires 6 Channel Receiver
if you want to know wholesale discount price,please contact us by e-mail.
Note:
If your shipment is delivered to a remote area,this charge will be added to your shipping cost.Checking your area is a remote area or is not a remote area on the website:http://remoteareas.dhl.com/jsp/first.jsp
FlightLine RC P-38L Lightning Allied Green 1600mm (63 inch) Wingspan - PNP RC Airplane Specifications:
The legendary P-38 Lightning revolutionized aviation history in World War II. Designed by a skilled team of engineers led by Clarence Johnson and Hal Hibbard, the P-38 was the only American fighter that was continually produced from before Pearl Harbor in 1941 to after the Japanese surrender in 1945. Over 9,900 P-38s were built, 3,810 of which were the superior P-38L variant. Revered by its foes as the fork tailed devil, the P-38 excelled as a fighter, interceptor, reconnaissance platform, long range escort, and as a ground attack aircraft. The aircraft also famously shot down Admiral Isoroku Yamamoto's aircraft during Operation Vengeance on April 18, 1943.
FlightLine RC's P-38 represents the pinnacle of engineering for a foam electric P-38.it is made in China Flight RC airlane manufacturer,It is the largest mass-produced foam electric P-38 in the world, with a high level of quality and scale fidelity. We know our customers have been waiting for a large P-38 with good size, clean wiring, and scale lines. The wait is over, it's here!
The Flightline P-38 was designed for easy operation. Its outer wings disassemble with four screws for convenient transportation and allowing the aircraft to sit on all three wheels without the outer wings attached.?FlightLine RC's P-38 Lightning features durable electronic retractable landing gear, five sequenced servo driven landing gear doors, day-bright LEDs, machine gun details, plastic nose cone and cowls, four flaps, accurate canopy and nacelle shape, and many other scale details. Each rudder is directly controlled by its own servo. The cockpit layout accommodates a wide range of 4S 14.8v Li-Po batteries with ample space for electronics. To ensure a high degree of structural rigidity, the entire model was designed around a special framework of carbon rods and reinforcement points. This framework strengthens the aircraft during high speed maneuvers, while still providing a gentle and forgiving flying behavior.
FEATURES:
it mas made in China freewing manufacturer.
Scale profile, accurate wing diherdral, and precisely modeled overall aircraft proportions
Removable outer wings for easy transport
Scale three blade propeller achieves 81 mph and vertical climbing capability
Four different decal sets included inside the box for you to choose from
Day-bright LEDs
Large cabin space for easy placement of the battery and radio equipment
Improved spinner and propeller mounting design to enable better balance
Durable Electric retractable landing gear with metal trunions and 4mm steel wire struts
Sequenced plastic gear doors for realistic operation
Tall foam rubber wheels for optimal handling on paved surfaces and short, evenly cut grass fields
INCLUDES:
FlightLine RC P-38L Lightning "Allied Green" 1600mm (63 inch) Wingspan - (PNP Version)
Motor, ESC, servos and retracts were installed
REQUIRES:
6?Channel Radio - Select a minimum 6 channel radio
6?Channel Receiver - Select a minimum 6 channel receiver
Two 4 Cell 14.8V 2500mAh to 3000mAh LiPo battery with?XT60 Connector
4 Cell Compatible Battery Charger - Select a minimum 4 cell (4S) charger
OPTIONAL:
An optional "High Power Upgrade Set" can be purchased separately to obtain speeds of 94mph+. The Upgrade Set includes two 3648 motors, two 12x8 2-blade counter-rotating propellers, and two 2-blade spinners. Click the Upgrades Tab above for more details.
Wingspan

1600mm / 63in

Length

1168mm / 46in

Weight (w/o battery)

3150g / 111oz

CG (Center of Gravity)
65-70mm from the leading edge of the wing at the root

Power System

3748-600Kv Brushless Outrunner Motor (Stock scale power system)
3648-880Kv Brushless Outrunner Motor (Optional sport power system)

Electronic Speed Control

60A Brushless with XT60 connector

Propeller / EDF

12x7 3 Blade Propeller / 12x8 2 Blade Propeller High Performance Version (optional)

Servos

9g standard with 300mm lead: nose gear door
9g metal gear reverse with 300mm lead: nose gear steering, right outboard flap, right inboard flap
9g metal gear standard with 300mm lead: left outboard flap, left inboard flap, left aileron, right aileron
9g standard reverse with 550mm lead: left gear door
9g standard with 550mm lead: right gear door
17g metal gear standard with 300mm lead: elevator
9g metal gear standard with 100mm lead: left rudder, right rudder


Landing Gear
Electric retracts with metal trunions

Required Battery

Two 4 Cell 14.8v 2500mAh to 3000mAh batteries with XT60 connector, or One 4 Cell 14.8v 5000mAh battery with XT60 connector

Required Radio

6+ Channel 2.4GHz

Ailerons
Yes

Elevator

Yes

Rudder
Yes

Flaps

Yes

Lights

Yes

Hinge Type

Nylon and foam hinges

Material
EPO Foam
Skill Level
Intermediate
Build Time
3-4 Hours
Recommended Environment
Outdoor, minimum 200 foot runway, pavement recommended, less than 1" tall smooth grass