Freewing F-86 Sabre V2 64mm Jet PNP 3S RC Airplane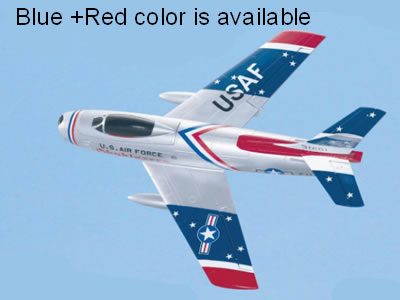 Freewing F-86 Sabre Jolley Roger 64mm EDF Jet 3S RC airplane
Wholesale price: [ $95.00 ]
Freewing F-86 64mm Jet PNP 3S RC Airplane
1,It requires 4 Channel Receiver, it requires 4 Channel Radio
2,The Brushless 2627-4300Kv Motor was installed inside.
3, It requires 3 Cell 11.1V 1600 - 1800 mAh LiPo Battery
if you want to know wholesale discount price,please contact us by e-mail.
Note:
If your shipment is delivered to a remote area,this charge will be added to your shipping cost.Checking your area is a remote area or is not a remote area on the website:http://remoteareas.dhl.com/jsp/first.jsp
Freewing F-86 64mm Jet PNP 3S RC Airplane Specifications:
Note:please tell me color that you like when you order!
The Freewing F-86 Sabre is truly one of the best values in radio control EDF jets. it is made in China Freewing Model,Affordable, built like a tank, and a blast to fly, the Freewing F-86 will not disappoint. It has plenty of speed and great flight characteristics right out of the box. We find ourselves reaching for the Freewing F-86 EDF very frequently even though we have hundreds of planes to choose from. This F-86 has plenty of power available so aerobatic moves like loops, rolls, and inverted flight can be performed with ease. The ailerons have great authority so the plane has a fantastic roll rate. The Freewing 64mm EDF jets are some of the most entertaining jets out there. The Freewing F-86 is built from durable EPO foam and uses nylon hinges on the control surfaces for increased strength and duty cycles. The durable airframe is perfect for hand launching and belly landing on grass surfaces.
FEATURES:

it is 100% original ,made in China Freewing model manufacturer
Scale features including Korean War "Jolly Roger" graphics, molded panel lines, and dual drop tanks
Durable EPO foam construction
Nylon hinges on all control surfaces (superior to a foam hinge)
Brushless motor, ESC and servos installed
Includes
Freewing F-105 Thunderchief 64mm Jet PNP 3S
the ESC,brushless Motor,Servo has already been installed,without battery.
Requires
4 Channel Radio - please select a minimum 4 channel radio
4 Channel Receiver - please select a minimum 4 channel receiver
3 Cell 11.1V 1600 - 1800 mAh LiPo Battery with XT60 Connector
3 Cell Compatible Battery Charger - please select a minimum 3 cell (3S) charger
PRODUCT SPECIFICATIONS:
Wingspan

700mm/27.6in

Length

700mm/27.6in

Flying Weight

470g

Power System

Brushless 2627-4300Kv Motor

Speed Control

30A, Internal BEC with XT60 Connector

Propeller / EDF

64mm EDF

Servos

9g standard with 300mm lead : left aileron, right aileron
9g standard with 100mm lead : elevator


Landing Gear

none - belly lander

Required Battery

3S 11.1V 1600mAh to 1800mAh 25C 3 cell LiPo with XT60 Connector

Required Radio

3 Channel

Rudder

No

Flaps

No

Ailerons

Yes

Lights

No

Hinge Type

Nylon hinges on all control surfaces

Material

EPO Foam