Freewing F/A-18E Supver Hornet V2 90mm EDF Thrust Vectoring Jet - Kit RC airplane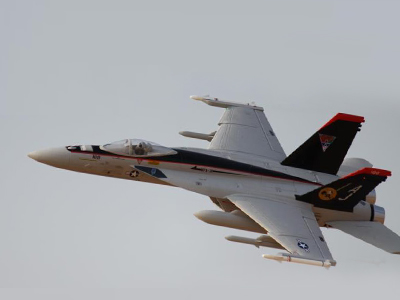 Freewing F/A-18E Hornet V2 90mm EDF Thrust Vectoring Jet - Kit RC Airplane
Wholesale price: [ $230.00 ]
Freewing F/A-18E Hornet V2 90mm EDF Thrust Vectoring Jet - Kit RC airplane
1. it requires 3748-1450KV brushless outrunner motorESC,Servo.
2.it requires 7 Channel Radio,4 Channel Receiver
3.it requires 6 Cell 22.2V 5000 mAh Lipo Battery with EC5 Connector
if you want to know wholesale discount price,please contact us by e-mail.
Note:
If your shipment is delivered to a remote area,this charge will be added to your shipping cost.Checking your area is a remote area or is not a remote area on the website:http://remoteareas.dhl.com/jsp/first.jsp
Freewing F/A-18E Hornet V2 90mm EDF Thrust Vectoring Jet - Kit RC airplaneSpecifications:
The F/A-18 Hornet ,is made in China Freewing Model Co.ltd.is one of the most iconic fighter/attack airplanes in the US Navy's air combat arsenal, and this new Version 2 model is every bit as impressive as the full size airplane. When Freewing set out to develop the Version 2, their goal was to improve upon the best-selling F-18 V1 by making it easier to build, stronger, and even more scale. They achieved these goals by providing a "bolt together" airframe, adding carbon reinforcement to the main wings and stabilizers, and by adding a new 12 blade EDF with metal housing powered by a massive 3748-1450KV Outrunner Motor.
The bolt together airframe means no more gluing the main wings to the fuselage, which makes wing attachment a breeze. The nose and main landing gear are all metal and include shock absorbing struts to protect the gear during hard landings. Other upgrades include super bright LED navigation lights, sequenced landing gear doors, magnetically attached weapons set, fully functioning flaps, and a detailed cockpit. For the very best in RC electric jets, look no further than Freewing Models, and for the best 90mm EDF F-18, look no further than the Freewing F/A-18E Hornet Version V2.
FEATURES:
it is a empty Rc airplane, there is no any electronic parts.there is no motor,no servo
Large scale electronic ducted fan RC jet (measuring over 55 inch in length) with numerous scale features including hand painted pilot, detailed cockpit, molded panel lines, scale air intakes, drop tanks, missiles, and VFA-31 graphics.
Dual 360 degree vectored thrust allows advanced maneuvers like hovering, flip turns, and flat spins
12 Blade factory balanced EDF with metal housing combined with 3748-1450KV brushless outrunner motor produces realistic jet turbine sound
Composite fan blades combined with metal EDF housing make the F-18 V2 AMA compliant (the fan blades themselves are NOT metal, so there are no flying restrictions)
High capacity 130 A ESC with 8A UBEC
Full functioning flaps allow decreased take-off distances and help slow the plane during landings
New mechanical wing attachments provide a stronger airframe and aid in transportation of the F-18 V2
Flight surfaces and vectored thrust nozzles are all controlled with 9g metal gear servos for precise movement, strength and long life
Bright LED navigation lights for enhanced realism and dawn/dusk maneuvers
Electronic retractable landing gear with all metal shock-absorbing struts and metal trunnions
Scale, sequenced gear doors provide added realism and improved aerodynamics
Drop tanks and missiles attach to the wings with rare earth magnets making them easy to remove before high speed flight
Upgraded pushrod clevis and metal ball head connectors on elevators provide a robust connection between servo and control surface and eliminate "play"
Nylon hinges on all control surfaces (superior to foam hinges)
Brushless outrunner motor, servos, ESC and 12 blade EDF come pre-installed for your convenience
REQUIRES:
3748-1450KV Outrunner Motor,Servo,and ESC
7 Channel Radio - Select a minimum 7 channel radio
7 Channel Receiver - Select a minimum 7 channel receiver
6 Cell 22.2V 5000 mAh Lipo Battery with EC5 Connector
6 Cell Compatible Battery Charger - Select a minimum 6 cell (6S) charger
SPECIFICATIONS DATA:
Wingspan

960mm / 37.8in

Length

1400mm / 55in

Flying Weight

3050g / 107.6oz

CG (Center of Gravity)
check manual

Power System

3748-1450kV Brushless Outrunner Motor

Electronic Speed Control

130A ESC, 8A UBEC, EC5 Connector

Propeller / EDF

90mm Metal Housing EDF with 12 Blade Fan

Servos

9g metal gear reverse with 550mm lead : nose gear door
9g metal gear reverse with 100mm lead : nose landing gear steering, left vector, right vector, middle vector
9g metal gear standard with 300mm lead : left aileron, right aileron, right flap, right elevator
9g metal gear reverse with 300mm lead : left flap, left elevator


Landing Gear
Full metal retractable main and steerable nose gear with shock absorbing struts

Required Battery

6S 22.2V 5000mAh 35C LiPo

Required Radio

7 Channel

Ailerons
Yes

Elevator

Yes

Rudder
No

Flaps

Yes

Lights

Yes

Hinge Type

Nylon hinges

Material
EPS Foam
Skill Level
Intermediate
Build Time
3 Hours
Recommended Environment
Outdoor