Freewing A-10 Thunderbolt II Twin 64mm EDF Jet Kit RC Airplane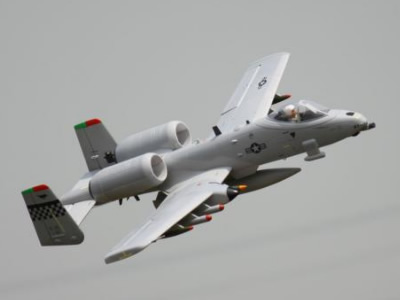 Freewing A-10 Thunderbolt II Twin 64mm High Performance EDF Jet Kit RC Airplane
Wholesale price: [ $200.00 ]
Freewing A-10 PLUS Thunderbolt II Twin 64mm EDF Jet KIT RC Airplane
1,5 Channel Radio .
2,5 Channel Receiver
3,dual 40A ESCs, and high-speed 2836-3500KV motors in the airplane
if you want to know wholesale discount price,please contact us by e-mail.
Note:
If your shipment is delivered to a remote area,this charge will be added to your shipping cost.Checking your area is a remote area or is not a remote area on the website:http://remoteareas.dhl.com/jsp/first.jsp
Freewing A-10 PLUS Thunderbolt II Twin 64mm EDF JetKIT RC Airplane Specifications:
Freewing A-10 Thunderbolt II Super Scale Twin 60mm EDF Jet RC airplane
This is the NEW High Performance edition of the famous close air support A-10 Thunderbolt II, also known as the Warthog or Tank Killer available exclusively. This is the heavily upgraded version of the Freewing A-10. Some of the upgrades include 12-blade EDFs, electronic retracts, metal gear servos, 4S battery capability, dual 40A ESCs, and high-speed 2836-3500KV motors. Typical to Freewing quality, this plane looks amazing and flies steady and fast. The twin 12-blade EDFs produce amazing realistic jet engine sound, while giving it plenty of power for high speed maneuvers, and the the wide wingspan allows stable flight at slow speeds. The main wings are also flaps ready, just add two 9g servos and you can experience shorter take-off distances and slower speed landings with the flaps deployed. we believe the Freewing A-10 is the perfect choice.
Model Made by Freewing Model manufacturer
Ultra-scale design including US Air Force graphics, hand-painted pilot, detailed cockpit, machine guns, bombs, drop tanks
Twin 12-blade 64mm Electronic Ducted Fans (EDFs) produce incredibly realistic turbine sound
Two 2836-3500KV brushless motors produce over 1700grams of thrust
Upgraded twin 40A Hobbywing ESCs are housed in a special compartment designed for effective cooling
Electronic retractable main landing gear and retractable steerable nose gear both with metal trunnions
Flaps ready (just add 6 units 9g servos) for quick take-offs and slow, scale landings
Metal gear servos for strength, precision, and long life
Nylon hinges on all control surfaces (superior to foam hinges)
Brushless motor, ESC and servos come pre-installed
INCLUDES:
Freewing A-10 Thunderbolt II Twin 64mm EDF Jet -KIT version,
there is no ESC , no motor in the package, it is a empty airplane, there is no any electronics parts.
REQUIRES:
Requires:
5 Channel Radio - Select a minimum 5 channel radio
5 Channel Receiver - Select a minimum 5 channel receiver
4 Cell 14.8V 3600 mAh Lipo Battery with XT60 Connector - EPR36004X6
4 Cell Compatible Battery Charger - Select a minimum 4 cell (4S) charger
Two 2836-3500KV brushless motors
ESC
PRODUCT SPECIFICATIONS:
Wingspan

1100mm / 43.3in

Length

1000mm / 39.4in

Flying Weight

1680g / 59.26oz

Power System

2836-3500Kv

Speed Control

2 x 40A, XT60 connector, internal SBEC

Propeller / EDF

Twin 12-blade 64mm EDFs

Servos

9g standard with 300mm lead : elevator, rudder, left flap, nose landing gear steering
9g standard with 550mm lead : left aileron, right aileron
9g reverse with 300mm lead : right flap

Landing Gear

Electronic retractable main and nose landing gear. Steerable nose gear.

Required Battery

4S 14.8V 3300mAh to 3600mAh 30C LiPo with XT60

Required Radio

5 Channel computer radio (6 channels if using flaps)

Rudder

Yes

Flaps

Optional

Ailerons

Yes

Lights

No

Hinge Type

Nylon hinges on all control surfaces

Material

EPO Foam